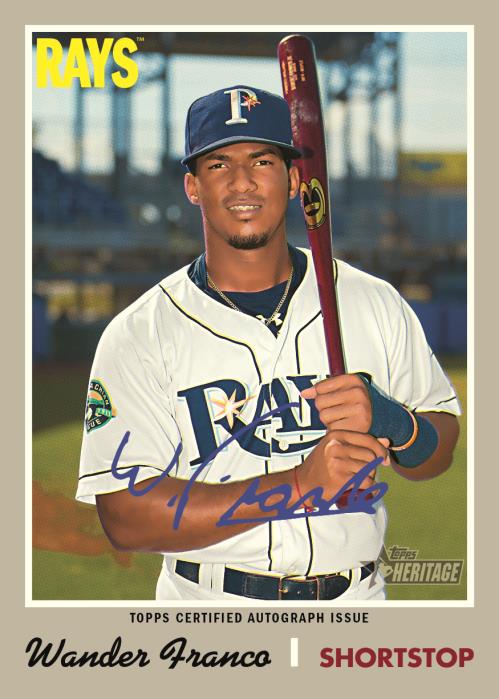 What: 2019 Topps Heritage Minor League baseball cards
Arrives: Sept. 25 Box basics: One autograph and one Relic per 19-pack box (12 boxes per case)
Order: Click here to buy boxes
Order: Click here to buy cases
What's buzz-worthy: Collectors can turn back the clock to 1970 for a final time this season with this trip down to the minor leagues where baseball's hopefuls get a big-league look on this popular line and one lucky collector will get a chance to suit up on a one-day contract.
Keep reading for more as well as a full gallery of images.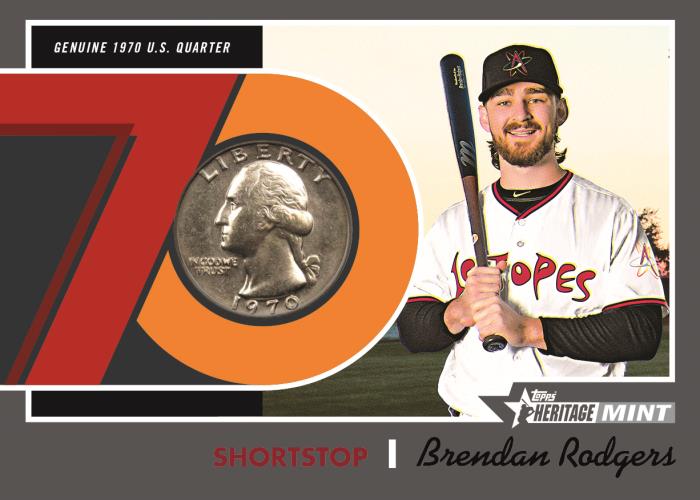 The Basics: There will be 18 packs per box along with a Topps Super box-topper pack this year. The basic set will consist of 200 cards with notable prospects along with league leaders and Sporting News All-Stars subsets. The parallels once again will include Blue (/99), Black (/50), new Gold (one per case) and 1/1 Red cards. Autographs will be on-card ink this time with the same parallels as well as new image variation autos. ... The Real One autographs will be found in standard form with Blue (/99), Black (/50), new Player Name Color Change (/25) and 1/1 Red parallels. There also will be image variation autos (/50) as well as dual (/20) and Bazooka (/50) autos. The Bazookas will ave 1/1 Red parallels. Also in the mix will be new Fresh on The Scene autos (/99) while the box-toppers will have an autographed version (/25). ... Also among the inclusions will be short-printed base cards, image variations and inserts that will include Fresh on The Scene and Fantastic Feats ... On the Relic side, there will be '70 Mint Relics (/99) with quarters -- Black (/50), Red (1/1) and autograph (/10) versions. Clubhouse Collection Relics that will use game-used bat and jersey swatches with Blue (/99), Black (/50), Orange (/25) and 1/1 Red patch versions. ... Last but not least the Make Your Pro Debut contest cards will be in this one with the Rocket City Trash Pandas (the Angels' new Double-A affiliate next season in Madison, Ala.) being the team that gets the nod this year and will have a collector on its roster for a day next season.