Topps National Baseball Card Day returns in 2018. Set for August 11, it's a day to head out to your nearest participating card shop and get free baseball cards. As with past years, 2018 Topps National Baseball Card Day comes with its own exclusive set of cards.
To complete the full 2018 Topps National Baseball Card Day set, collectors will have to make a qualifying purchase at a participating shop. Card #1, Aaron Judge, is available on August 11, like the packs. To get it, you have to buy $10 worth of Topps products. That said, you may want to check with your local shop first to see that they are involved.
Topps is making one change to the program to send collectors back to hobby shops a second time. On August 25, a special Rhys Hoskins will be made available. Like the Judge, it requires a $10 purchase.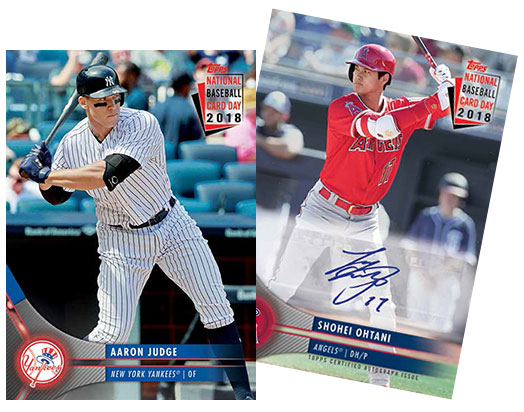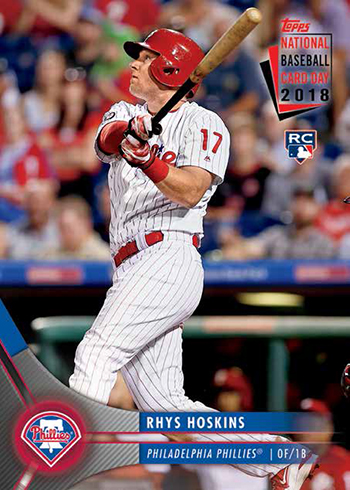 2018 Topps National Baseball Card Day Checklist
Base Set
32 cards.
1 Chris Davis, Baltimore Orioles
2 Mookie Betts, Boston Red Sox
3 Jose Abreu, Chicago White Sox
4 Edwin Encarnacion, Cleveland Indians
5 Miguel Cabrera, Detroit Tigers
6 Jose Altuve, Houston Astros
7 Salvador Perez, Kansas City Royals
8 Shohei Ohtani, Los Angeles Angels
9 Joe Mauer, Minnesota Twins
10 Didi Gregorius, New York Yankees
11 Khris Davis, Oakland Athletics
12 Felix Hernandez, Seattle Mariners
13 Kevin Kiermaier, Tampa Bay Rays
14 Joey Gallo, Texas Rangers
15 Marcus Stroman, Toronto Blue Jays
16 Zack Greinke, Arizona Diamondbacks
17 Ozzie Albies, Atlanta Braves
18 Anthony Rizzo, Chicago Cubs
19 Billy Hamilton, Cincinnati Reds
20 Charlie Blackmon, Colorado Rockies
21 Cody Bellinger, Los Angeles Dodgers
22 Justin Bour, Miami Marlins
23 Eric Thames, Milwaukee Brewers
24 Amed Rosario, New York Mets
25 Jake Arrieta, Philadelphia Phillies
26 Josh Harrison, Pittsburgh Pirates
27 Hunter Renfroe, San Diego Padres
28 Buster Posey, San Francisco Giants
29 Yadier Molina, St. Louis Cardinals
30 Max Scherzer, Washington Nationals
Aaron Judge, New York Yankees – available with $10 purchase
Rhys Hoskins, Philadelphia Phillies – available with $10 purchase (starting Aug. 25)
Autographs
26 cards.
AU-AE Alcides Escobar, Kansas City Royals
AU-AG Avisail Garcia, Chicago White Sox
AU-AR Amed Rosario, New York Mets
AU-AV Alex Verdugo, Los Angeles Dodgers
AU-BD Brian Dozier, Minnesota Twins
AU-CSI Chance Sisco, Baltimore Orioles
AU-GM German Marquez, Colorado Rockies
AU-GT Gleyber Torres, New York Yankees
AU-IH Ian Happ, Chicago Cubs
AU-JF Jack Flaherty, St. Louis Cardinals
AU-KB Keon Broxton, Milwaukee Brewers
AU-KS Kyle Seager, Seattle Mariners
AU-MA Miguel Andujar, New York Yankees
AU-MF Max Fried, Atlanta Braves
AU-MM Manny Machado, Baltimore Orioles
AU-MO Matt Olson, Oakland Athletics
AU-NS Noah Syndergaard, New York Mets
AU-PB Parker Bridwell, Los Angeles Angels
AU-PG Paul Goldschmidt, Arizona Diamondbacks
AU-RA Ronald Acuña Jr., Atlanta Braves
AU-RH Ryon Healy, Seattle Mariners
AU-SO Shohei Ohtani, Los Angeles Angels
AU-TM Trey Mancini, Baltimore Orioles
AU-TW Tyler Wade, New York Yankees
AU-VR Victor Robles, Washington Nationals
AU-WB Walker Buehler, Los Angeles Dodgers